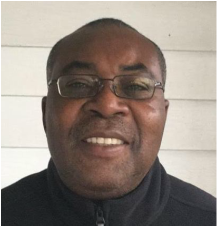 The board of Yo Ghana! is delighted to welcome aboard Mr. Komi Kalevor, who has not only accepted our offer to join the board but is also assuming the Treasurer position.
Komi moved to the U.S.
from Ghana in the early 1980s and earned an MBA at Willamette University.
He has worked for many years in a variety of management positions in housing development finance, program management, and banking, including many years with the Portland Development Commission.
He is currently the Assistant Director of the Housing Authority of Washington County.
He has served on the boards of Portland Habitat for Humanity Metro West, the Portland Guadalajara Sister City Association, Portland Community Reinvestment Initiatives, the PSU Alumni Association, and the Ghana Association of Oregon.
Komi joined us "to
do my part to help Yo Ghana! achieve its mission, which I am in full agreement with," for "meaningful cultural exchanges can go a long way to break down barriers and serve to educate today's youth to be become 'citizens of the world.'" In fact Komi himself participated in a high school student exchange program between Ghana and Oregon in the late 1970s, so at a young age he was living out our slogan: exchanges for transformation, was doing Yo Ghana! four decades before there was a Yo Ghana!
Komi and his wife, Judith, reside in Vancouver, Washington.
Son Selali, is a senior at Washington State University, Pullman, daughter Shika a sophomore at Seattle University.
Our board is saying farewell to one of its first members, Ms. Leeann Bronson.
Leeann joined our board more than two years ago, before we became a 501(c)3, and immediately began serving as our Treasurer, a crucial position that is notoriously difficult to fill. She never missed a meeting or a deadline.
I think what inspires me most about Leeann is that she stepped forward to do crucial and demanding work for an organization that she had no particular attachment to. She had never been to Ghana or had an interest in letter exchanges. But in her unassuming way she became passionate about our work and was one of our rocks.
We are most grateful, Leeann.