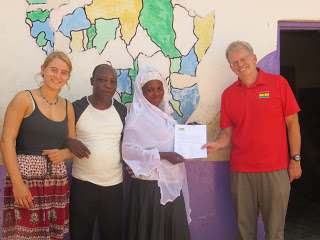 Tuesday brought us back up to Purity Preparatory School for the opening of school. In Ghana,
students tend to trickle in, and the first days are spent cleaning the school and the grounds. But the students from creche to 9th level (grade) took a break from their work to welcome us and to listen to us talk about the coming year of letter writing. Then it was back down to Accra, to the lively streets of Nima, where our friend Mary Jackson joined us. This was also the first day of school for Anani Memorial International School, but three classes of students, creche through upper primary, treated us to rousing songs and expressed a lot of interest in the letter writing. Elizabeth and I especially enjoyed presenting certificates of appreciation from Yo Ghana! to some of the many community members who had donated time or food to the school in order to match our grant.
Wednesday we spent the day at another long-time Yo Ghana! partner: L & A Academy. Mr. Kankam was, as usual, a very generous host, and we got to talk with six classes, from upper primary (4-6) to JHS (7-9). Elizabeth and I were delighted to be joined by Mr. Essan Weah and Madam Agatha Weah, his wife. Essan has visited many Oregon classrooms for Yo Ghana and has spent the past few weeks in Ghana visiting his family, so the Ghana students enjoyed hearing about American schools from a former Ghana student, teacher, and headmaster. We are very, very grateful to the Weahs for giving Yo Ghana! one of their precious days together.
Reflection: Essan mentioned over lunch that most Ghanaians expect white Americans to show up with a lot of money one time and then disappear. Yo Ghana! does the opposite of that. Our grants are modest and require that a community initiate a project. But we come back every year and hope to be in partnership with our schools for decades to come. One key to these partnerships is the many Yo Ghana! volunteers who have lived for years in both the U.S. and Ghana. It is not a "we" and "them" sort of an organization.