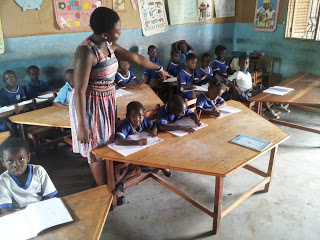 Thursday morning brought us, with our friend Dr. Richard White, to Purity School in beautiful Akropong. Yo Ghana! Has worked with this small, rural school with high standards well before we became a 501(c)3, and it was a thrill to see the new library that the school had constructed. Dr. White had a good discussion with Madame Constance, Headmistress Samantha, and several other school leaders about how the school was using the library to both enhance the education of its students and to increase attendance at and support for this gem in the hills. "At recess the students used to just want to play," observed one teacher, and "now they want to come here," to the library. We then went down the scenic road back to Accra, where we met with our good friend Mr. Rashid Hafisu, coordinator at Accra Girls Secondary School and two teachers who will be assisting him with the letters. It was delightful to again spend time with Miss Deborah, who had completed the service requirement that Yo Ghana! requires of older scholarship recipients by volunteering at St. Bartholemew's School. Miss Deborah reported that she had not worked much with children or teaching before and enjoyed it very much and was impressed by the student's determination to learn. Thursday night we sat in on Richard's lecture on how to be a strong student at the Palm Institute in East Legon, a two-year college founded and led by Dr. Peter Okantey, an old friend who has been working for many years to transform education in Ghana.

Friday we toured the Ghana National Museum in the morning and then made the bone-rattling drive up to Ashesi where we had the pleasure of meeting Mr. Prince and Mr. Frederick, two of many Ashesi students who are passionate about community development: mentoring junior high school students and developing Ghana agriculture, respectively. Dr. Charley Jackson, faculty member in the newly opened School of Engineering at Ashesi, then took us home for a delicious dinner and the company of his wife, Mary Kay, who has done development work in Ghana for many years.

Reflection: Many Ghanaians have told us that although they have a very strong tradition of helping an extensive network of family and kin, there is not such a strong tradition of helping people one is not related to. Our Ghana board members and advisors have been particularly adamant that Yo Ghana! play a role in widening this circle of generosity. Mary Kay talked about how development workers often forget how empowering it is to give. One of Yo Ghana!'s tenets is that "everyone can help someone." It's a sad fact, though, that NGOs often expect little or nothing of the people that they purport to help, low expectations that can sap a community of the very strength that allowed it to flourish for millennia long before the NGOs showed up. So we were delighted to learn how Purity School was already using its library to strengthen the rest of the community and to see how delighted Miss Deborah was with her experience of volunteering with young students.