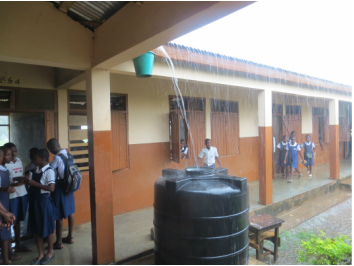 Before I came to Ghana, everything that we'd done with Yo Ghana! seemed distant; an intangible, detached thing that I wasn't able to quite grasp. Due to high school and other commitments, I wasn't as involved with Yo Ghana! as I would have liked to have been over the years. I mostly followed along with our activities through information and photos David shared with me while helping in spurts, with whatever needed to get done. While I'm not discounting the work I've put into the organization over the years, I do have to acknowledge that my part in all of this has been minute. David's never gotten quite enough credit- though I know that he wouldn't have wanted it- but without him, I'm quite sure that Yo Ghana! would not be what it is now. He'll credit Brando as being our soul, the teachers as being the ones who make it all work, our board as being the council, and me as our engine. While I cannot argue these roles, he is our leader, subtle and determined and patient. So, thank you, David, for everything you do.

After three and a half weeks here, I think I can finally say that everything Yo Ghana! does is becoming real for me. The schools I'd only seen pictures of are actual buildings now and the students are becoming laughing, optimistic, curious people I've met and Ghana manifests itself into a dusty, welcoming, kind place. It's rad. I've also realized, even more so than before, that my part in this organization truly is incomparable to the blood, sweat, and tears teachers, headmasters and headmistresses, coordinators, proprietors, and students put in. Our organization is all volunteer based and those who are a part of it participate willingly and enthusiastically. I mean, the people that we work with are incredible. These teachers and proprietors do the impossible every day: they have to deal with a lack of resources and parents who can't pay school fees and inadequate buildings and students that are unable to see their bright future. And yet, every day, they do the impossible thing because it's all they know and there is no option. It's just what's done and it's inspiring.

In all honesty, I have no idea what Yo Ghana! will become or the direction we'll go in over the next five, ten, twenty years. We probably won't change the world or drastically alter the lives of thousands of students. But seeing what I have so far, seeing the really, really good people out there that are trying to put something positive into the world, has made me realize that that's ok. I know we're putting a little bit of joy and light and hope in this world. And that's enough, I think.