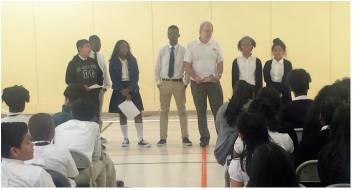 On November 21, six middle school students who had been studying for ten weeks with Dr. del Mar presented their work to 100 of their peers, teachers, and guests at St. Andrew Nativity School. Two of the students interviewed each other, two interviewed older siblings, one interviewed his mother, and one interviewed her grandmother.

The students learned a variety of skills, from how to ask a good question to when to use a quotation and when to paraphrase to how to organize a strong paragraph to how to take accurate and useful notes. They also learned how to get up in front of a large group of people and share their work, not an easy task!

Yo Ghana! has for years focused on letter exchanges. Last year the students at Angel's Academy did several independent-research projects; some presented their work on the life of a fisherman at Yo Ghana!'s Sharing Our Stories Conference. St. Andrew is the first school to complete a set of oral histories or life stories, and we'll soon be sharing them with you, and they'll be sharing them with their partner school in Ghana and at upcoming events, such as our Student Showcase at St. Andrew on December 19 at 10:00 a.m.

We hope that inviting our students to dig more deeply into their cultures and to push themselves harder will bring deeper exchanges and transformations. And we are proud of Tomas, Chrisani, Meklit, Parfait, Lexi, and Lizbeth for leading the way!