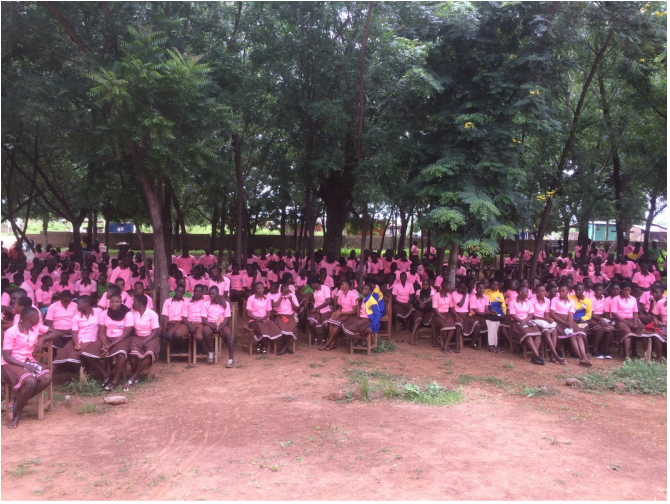 Today we had the pleasure of visiting Savelugu Senior High School, also known as SAVESS. The
form I students have yet to arrive, but there are about 1,000 students in the school once they arrive.
All of our schools in Ghana have welcomed us enthusiastically, but the welcome at SAVESS was particularly warm. Headmaster Baba paid us many compliments, and our coordinator, Mr. Nantogma, and Miss Joyce, who assists him, were wonderful hosts. We got to speak to all of the students in a large group using a microphone, and then interviewed several students individually.
We also toured the new urinal that Yo Ghana! contributed a modest donation for, an amenity that will save the students and the female faculty a walk of about ten minutes each time the need arises. We were very flattered to receive gifts of cloth from the school of their school emblem.
Reflection: It was interesting to talk with students and staff and to realize anew that most Ghanaians do not realize how strong their education system is. Much of this can be attributed to the drive and determination of the students, who are often surprised to learn that many of their American friends have so much leisure time, that they do not spend much time on household chores, farming, or studying. Some are also puzzled that American students don't write much about their culture. I pointed out that most Americans do not perceive themselves as belonging to a particular ethnic group--though the U.S. contains thousand of ethnic groups. So the question of what cultural group one belongs to is confusing for many people in the U.S. Ghanaian students live much more structured lives, have a sense of both belonging to a particular culture (and the language, celebrations, and other features that come with it) and also tend to develop at a young age a particular career path that a strong education is required for. The Ghanaian pattern--strange as it may seem to most modern Americans--is much closer to the historical norm than the modern American one is. Only recently have large numbers of people grown up with so little structure to their lives.
David