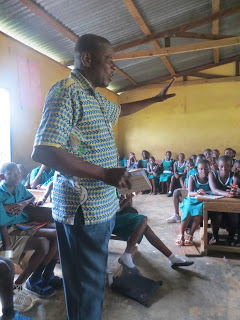 We got to spend Tuesday evening and Wednesday morning with one of my favorite persons, Father
Mawusi. Father Mawusi joked last year that he thinks he shall be remembered in and around Kpandai "as the priest who fired all the cooks." Though his culinary standards are high and his manner at times blunt, he gets a tremendous amount of good work done and has an extraordinarily big heart. I have seldom met a person more dedicated to service. St. Kizito School, which he oversees, is packed because it offers an outstanding education with virtually no fees--a rare combination in Ghana. I lost track of the major projects he has recently finished, started, or is contemplating.
One of Father Mawusi's recent projects has been adding three kindergarten classrooms so that the school has seven rather than four (see the photo below). Yo Ghana! made a modest contribution to that effort, and only after asking Father Mawusi several times how we might help. The community and other sources built the foundations and walls and are finishing the floors and walls. We helped with the roof. Today he showed us the foundations laid out for another set of rooms for a play area and nursing station for the school's youngest students.
Reflection: People like Father Mawusi have a certain clarity of purpose, a peacefulness, about them.
They are at times dismayed or even discouraged by the overwhelming problems they confront, perhaps even by the human condition itself, the stain of selfishness that provides the breeding ground for the indifference to suffering that is at the root of so much suffering. But I seldom detect any traces of regret in the Father Mawusis I have met. Rather, they seem to count it a blessing and a privilege to be in a position to help others, even as they are sorrowed by the many more they are unable to help. Father Mawusi's life illustrates the great joy and dignity of a life constantly informed by the needs of others.
David