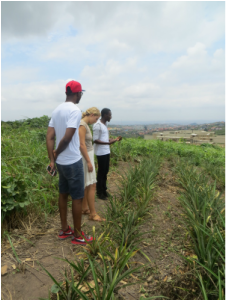 Saturday Mr. Kwame Akoto took us to visit his family and the family of board member Mr. Brando Akoto in Akalove, a little village near the mouth of the Volta River. We also had the pleasure of meeting with most of the student body to talk about Yo Ghana! It is a very peaceful and beautiful place who always treat us with great kindness and enthusiasm.
Sunday we recuperated and caught up on paperwork before heading out to visit Mr. Leonard Annan, the co-founder and President of the Adesua Ye Adult Literacy Program in Berekuso. Leonard had some great ideas for Yo Ghana! and is one of the most focused persons I know.
Then Monday, we returned to Ashesi for a whole bunch of meetings with leaders from several of its many organizations: Sesa Mu Farmer's Initiative; AmoBempa Intitiative (community development); Starfish Aid Program (literacy in primary schools); and Trim Lab Network (mentoring at-risk junior high school students). Sam and Dan of Sesa Mu took us on a quick tour of their demonstration farm (above). The pineapple plants pictured have been treated with an application of oil extracted from Neem Tree leaves, which is an inexpensive and nontoxic pesticide, just one of several innovative strategies the demonstration farm is testing.
Reflection: The four sets of meetings we had today reflect the tremendous
idealism, industry, and intelligence of Ashesi University's student body, the reason why I tell students in both the U.S. and Ghana that the best university I know of is in Ghana. It might seem a bit odd that a nonprofit devoted to transformative letter exchanges would be interested in pineapple cultivation, but in developing countries education is linked to many factors, and we have found that much is gained for the greater good as well as our own organization's well-being when we seek out and collaborate with great people doing great work in the communities we serve. It has been a particular treat to see Yo Ghana!'s co-founder, Elizabeth, interacting with other young founders such as Miss Miriam and Mr. Maxwell of Starfish, pictured together here. Starfish works with rural primary schools in which there may not be a single functionally literate student. But nothing seems to discourage them from recalibrating and reworking their approaches to bring hope to seemingly hopeless situations. We came up with some exciting ideas on how Yo Ghana! might offer incentives to literacy for their students. A lot of young adults want to save the world, but these people go about it with a tenacity and joyfulness that is contagious and inspiring.
David