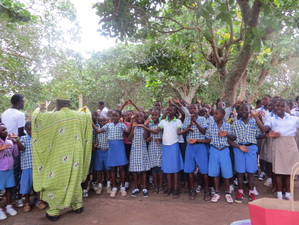 Today was Founder's Day in Ghana, yet the students of Nipaba Brew School
were out in force to welcome and listen to and talk with us.
This is the second year that the school has given up half of a holiday to spend time with us. They do this because they are an unusually dedicated school, with an unusually dedicated Founder/Proprietor/Headmaster, Mr. Gilbert Brew. The school excels at helping students to become highly literate at a young age, and this year they are offering the first year of JHS.
The school has some very impressive list of accomplishments with Yo Ghana! It was one of just three schools to send four sets of letters last year, and this year it has committed to 120 students exchanging letters, 100 of them five times.
Reflection: Most Americans would find living in Ghana discouraging. The infrastructure is weak, and university graduated struggle with a roughly 50 percent unemployment rate. Yet the optimism and determination of students at schools like Nipaba Brew is palpable. These are students who believe that they can make their way in the world--and help others while doing so.
David