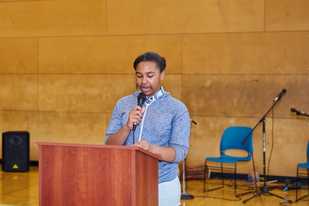 Yo Ghana! will be having its first Student Showcase 10:00 a.m. this coming Monday at the gym behind St. Andrew Catholic Church at NE 8th and Alberta. In addition to our students sharing their oral histories and poems and top letters, Mr. Baba Wague will present an African story. Admission is free, and light refreshments will be served.
Here's a portion of Tomas's fine oral history, about his older sister. He will present the rest on Monday:
Dolores remembers a childhood in Guatemala that was very different from in the U.S. She would eat the tamales that her mom and grandma made on special days. She loved the sound of the marimbas. She also had dogs that she would play with every day. On certain days, she would go with her family to special places when something was being celebrated. An example is the feast day of Guatemala's archangel, Santo Rafael. She would wear something called a 'chan,' which is a dress-like skirt that girls and women wear to special occasions.
Dolores faced many challenges while in the U.S. She only knew one language, her native language. In the U.S., the main language was English. Dolores didn't know any English, so talking to people was hard. To overcome this, she had to take ESL classes. As years passed by, she learned how to speak English more fluently. Dolores also got to learn Spanish when she was in ESL.