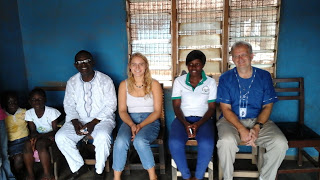 Lucy, Elizabeth, Godsway, and I are not spending much money on
food on this trip, but we are eating very, very well.
Father Mawusi fed us very well at St. Kizito. Then, in Tamale, the families of Mr. Dominick and Mr. Nantogma hosted us to feasts on back-to-back evenings. Now, at Sampa, Mr. Brew, pictured here, has besieged us with breakfast, lunch, and dinner, and of very large portions.
Of course this desire to see guests well fed is part of a larger cultural characteristic or pattern: a desire to pay close attention to people. "A human being is not a palm tree," as the Akan aphorism puts it. People are not meant to be solitary. We depend on each other. Feeding people, greeting people, attending to people is a way of showing respect and expressing care.
This is sometimes a challenge for out letter writers. American students often find their Ghanaian partners overly serious or even demanding. Ghanaian students may find their U.S. counterparts overly distant. It's part of the tension that Yo Ghana! embodies, a tension that we hope leads to richer understanding and lives. It certainly is for Elizabeth and I. There is something very grounding and comforting about being in Ghana, surrounded by such care.
David