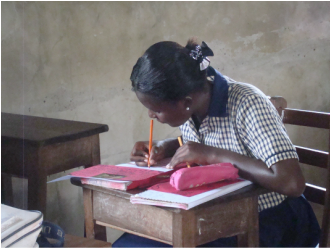 Our
Facebook page
has for the past few months featured letters of the week. It is a great place to go to see
what students in the U.S. and Ghana write to each other about.
Yo Ghana! facilitates the exchange of more than 5,000 letters a year, and it is a lot of work for a lot of people. We spend thousands of dollars and several weeks a year visiting every school. The teachers spend a great deal of time coordinating the letters. Imagine how difficult it is to get, say, each and every one of sixty middle school students to write a clear, thoughtful letter by the end of a week! The technological challenges are often daunting. Our Vice President, Dr. Kofi Agorsah, recalls working long Saturdays in a field so that he could have the money to buy a few pages of paper for the following week. Life in Ghana has improved since then, but our teachers sometimes get up in the middle of the night to send letters when the electricity is on at night but off during the day. Last week one left the preparations for his father's funeral to carry letters several hours to a school that does not have a printer.
We are now into our fourth year of letter exchanges. There have been some spectacular failures, and the successes require a great deal of work and attention to detail. But the letters themselves are revelations. They make all of the work worthwhile. Our students use them to teach each other about their cultures and to care for each other. They are making, as one of them put it, "the world a smaller place." Who knows what that will lead to months, years, and decades from now?
So, please, go to our Facebook page, read the letters, "like" us and "share" us. Let's multiply the impact of these dedicated writers.