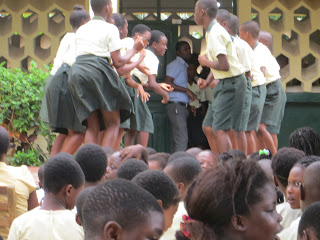 Tuesday afternoon after the drive from Sampa we had the pleasure of again visiting Wings for Life. This remarkable institution, led by the Ampofo family, has innovative and student-centered after-school programs. Ghana schools tend to emphasize memorization, and it was delightful to meet and talk with WFL's students, to witness first hand their curiosity and initiative. WFL also offers education for special-needs children. Mrs. Mercy Ampofo and her son, Rudolph, are among the leaders in Ghana in these fields, and their excitement for education in general and child-centered education in particular is inspiring.

Next morning we had the pleasure of visiting a school recommended a few months ago to us by WFL: Mt. Olivet School. Mt. Olivet was celebrating its twentieth anniversary. It began as a nursery program, and its founder, Madam Regina, kept expanding in response to parent requests. Now it serves over 500 students. The students were performing dances, the garden had lovely fragrances, and the staff and students were excited about their work—and to be part of Yo Ghana!

Mt. Olivet joined us a few months ago when one of our Ghana schools dropped out in the middle of the year, and their students did a wonderful job. We are thrilled that they are part of the Yo Ghana! family.