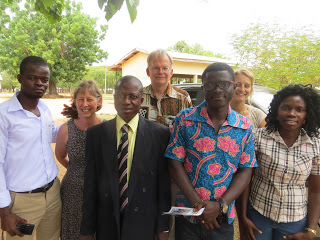 Monday around noon we left our friends in Dambai for a ferry crossing. Another sign that Ghana's infrastructure is improving is that the wait for the ferry was very short and that it departed without waiting hours past the scheduled time. The roads are also much improved. This of course makes moving goods easier and the economy stronger.
The improved road brought us soon to Kete-Krachi, where Yo Ghana! board member Dr. Kofi Agorsah attended school for many years a half century ago. Headmaster Mr. Hastings and Yo Ghana coordinators Mr. Daniel and Mr. Tande and the rest of the staff immediately welcomed us and made us feel at home at a pleasant and quiet guest house and showed us to what became our favorite restaurant in Ghana, a small outdoor canteen just outside the prison grounds with amazing food and a gentle breeze. We also got a quick tour of the current and future computer laboratory at John Doeswijck Junior High School. As you can see from the photographs, the current one is so cramped that the computers don't really fit in it,
and when the students are using the space it is very difficult for Headmaster Hastings to get his work done.
Dr. Agorsah had visited the school just a couple of months before and was very impressed that the school has raised so much money toward the new computer laboratory. This of course is the Yo Ghana! model or practice, that we help schools with projects that they have started. Mr. Divine of the school's PTA was kind enough to attend our meeting with the school staff Tuesday morning, and we thanked him for the strong work of the PTA in helping the school. If schools count on outside NGOs for help, they may wait forever, or they may fall apart when the NGO leaves. But if they start something themselves, they both attract more support from others and ensure that they can continue to be strong when the NGO leaves.
Under the leadership of Mr. Hastings the school is doing very well in its exams, and we were very impressed by the quality of the discussion we had with staff about how to improve the letter-writing program. This is a very strong school with very engaged teachers. John Doeswijck has not only done an outstanding job of responding to all the letters they have received from the U.S.; they have also helped two other schools that lack a scanner/printer. Mr. Daniel has invested many hours of his own time in making this possible. Yo Ghana! relies on teachers who already have too much to do but are willing to do even more so that their students can learn from and teach their friends across the Atlantic. We enjoyed meeting with the students very much, then headed north toward Kpandai and St. Kizito Basic School.