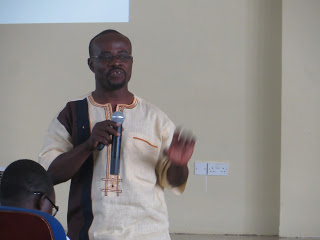 ​Saturday I had the pleasure of meeting with Mr. Eric Opoku Agemang and Madam Brittni Howard, who had kindly arranged the meeting after we met at the Ghana Studies Association meeting a week ago. Mr. Eric heads an organization called Patriots Ghana that works to help children who have been trafficked to the fishing industry. As so many problems are both cause and consequence of child trafficking, Patriots Ghana works on a host of other issues, too, from economic development to training teachers how to work with students who have suffered severe trauma to how to persuade children how to go to or stay in school. It's a remarkable organization, and we hope for Yo Ghana! collaborations in the future.

Then it was off to Winneba for a long meeting with Dr. Eric Ananga, the busiest person I know, and his research assistant, Madam Berthy.

I met Dr. Eric nearly two years ago and was immediately drawn by his unassuming passion for and dedication to education. Everyone who had met him attached to Yo Ghana! was delighted when he joined our board, and it was his vision and dedication and connections that made the first Yo Ghana! conference happen in the first place, let alone for it to be so successful. Eric likes to move behind the scenes to get things done, and he had to be prompted before he would agree to speak at the conference. He is a delightful person to spend time with, though after doing so I go away feeling like I should be doing more to make the world a better place.