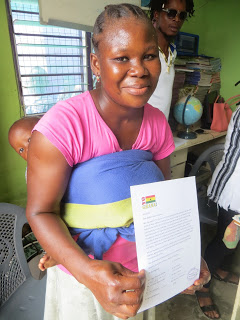 The day began at Anane Memorial International School, where I got to do one of my most favorite tasks: distributing letters of recognition to some of the many parents and school members who contributed goods or services to the school over the past year, such as Madam Joyce who volunteers as a cook. Nima is a place of both widespread poverty and determination, and the school staff confirmed that these donations, which Yo Ghana! matches, have raised morale considerably. The community feels much more ownership of and commitment to its school when they are giving time and other resources to it.

I then had the pleasure of watching the Kindergarten students practice their dancing. They are very dedicated, and the school regularly performs in a variety of venues, such as the airport, to help raise funds for the school.

Then it was off to Angel's Academy to follow up on Tuesday's visit by seeing what the students had learned in their interviews of elders. The reports were much longer and more detailed than I had anticipated. We started with having the students pair up and deliver their reports to each other, then each read to the group. We then had a long discussion of how to elicit longer, more
interesting answers, with reflection on what had worked or had not worked in the interviews, and why. All of the participants seem eager to do a much fuller life story of an elder starting in September, with the assistance of their very dedicated teachers. Back in the U.S., some students at St. Andrew Nativity School will be doing the same sort of work, so we are excited to see how these two pilot projects work out and what sort of stories the students are able to share with each other—and hopefully the rest of the world.

This oral history project is an example of our desire to go deeper into our exchanges, and it expresses our belief that transformative exchanges can occur not only between nations, but also between generations.