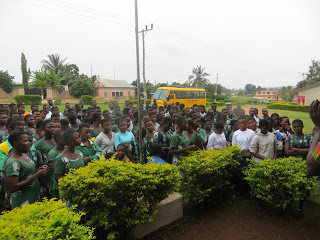 Today Madam Lucy and I had the pleasure of visiting Kwahu Taho Senior High School. It was a long day trip, but definitely worth it!

We learned of the school from Dr. Seth Asare, who grew up in the town and has lived in the Portland Metro Area for many years. He assured us that the school has a reputation for excellence, and that was certainly the case.

We had an excellent meeting with Madam Alice, the Headmistress, and Mr. Phillip and Mr. Prince. Mr. Phillip has already started a Yo Ghana! club in the school, even before the school has been paired with U.S. one for the coming year. That's the sort of initiative suggestive of a long and dedicated relationship, as is the fact that so many staff members at the school are enthusiastic about our program.

We also got to meet with the students. There are about two hundred per level or grade, with many coming from villages in the area, others from far away. The great majority board at the school. We hope it is the first of many visits.