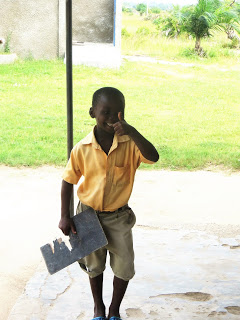 After returning to East Legon on Sunday, it was nice to be back 'home" with Madam Senadza and Madam Doris in their very comfortable home and to have dinner at Chez Afrique, the restaurant that the wife of Yo Ghana! board member Michael Williams has made such a success.

Mr. Frank and I left at 6:00 a.m. to beat the traffic and in three hours were in Akalove, where dear friend Brando Akoto is buried. It was so good to speak and cry a bit with his mother, from whom certainly he inherited his big heart and great care for others. I presented her with a Yo Ghana! Kente stole, as her son did so much to form our organization. I also had the pleasure of meeting with the chief and the elders and telling them of the great contributions that Akalove Basic School was making to Yo Ghana! through their letters to the U.S. and their participation in the Yo Ghana! conference at Winneba a week and a half ago.

I also met with the school staff and the students. Akalove is a very young school, started just a few years ago by the community. Next year it will offer all three forms or levels of the Junior High School, which is a very exciting development. The students are a bit on the shy side, but their enthusiasm for the letter writing is very evident, and, as the photo to the right suggests, not all of them are so shy. It is a pleasure to visit a school that so many people have sacrificed for to bring into existence.

Mr. Frank then got me safely to Accra Girls Senior High School where Mr. Benjamin took time out from his very busy afternoon to organize many of our letter writers for a meeting. About half of these students correspond in French with their counterparts in a French class at Central Catholic High School, which adds another international wrinkle or layer to our program.