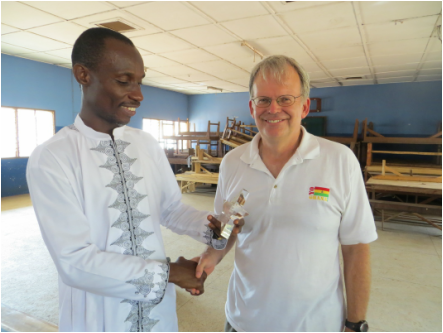 ​After twelve days of traveling across Ghana, we spent Friday traveling across Accra for seven appointments. We started at 7:00 a.m., heading out to Angel's Academy, then ended at 9:00 p.m., walking home from a meeting with Leonard and Sela, recent graduates of Ashesi University.

One of the most satisfying moments of the month for me, personally, was presenting Mr. Rashid Hafisu with a Yo Ghana! star award at Accra Girls Senior Secondary.

Rashid is now starting on a partnership with his fourth high school in the U.S. I first met him four years ago, before there even was a Yo Ghana!, and since that time he has answered countless e-mails, printed and scanned innumerable letters, traveled long miles on his days off to straighten out problems, and been instrumental in setting up our scholarship for hard-working young women from poor families who could not afford the fees.

Rashid once told me that in Ghana, it is said that a teacher's reward comes in heaven. Government teachers who receive their pay reliably--which is not a given--need to figure out a way to double it to have a chance at a middle-class life. I believe that U.S. teachers are underpaid. But when I once told Rashid what they/we make, he was stunned.

This is one of the reasons why absenteeism and low morale is a challenge at so many schools. Yo Ghana! works with exceptional schools populated by teachers who love to teach and accept all the difficulties that come with it.

In accepting the Yo Ghana! star award, Rashid urged the seventy or so students who were present to pursue their educations and other life commitments with great passion, to embrace life as an opportunity for growth and service. He certainly exemplifies that approach to life, and Yo Ghana! is honored to honor him for it.