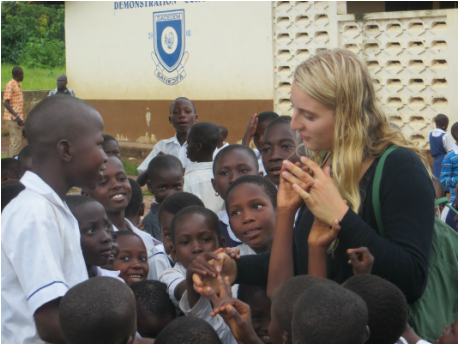 I first met Elizabeth Fosler-Jones four years ago, when a mutual friend introduced us because we were both interested in Africa. A few months later, Elizabeth had: organized a group of students to write letters to a school in Ghana; created our name (Yo Ghana!) and logo; created and starting selling more than one hundred t-shirts; raised a bunch of money in other ways; and a lot of other things I can't even remember. She is a force to be reckoned with. And unlike most people I know who get a lot of things done in a hurry, she seems to be having a blast while doing so. Some people who haven't met her find it hard to believe that a fourteen-year-old could co-found an organization whose board if full of people with doctorates, but it's true; without her drive, confidence, and competence, we would have stayed small, or withered away.

Elizabeth is spending a lot of time and money to represent Yo Ghana! in Ghana, as we don't pay any travel expenses for our board members or other volunteers. The days have been long, the rides often uncomfortable. But she never complains. Today, after a four-hour wait for a fifteen-minute ferry ride, the captain tried to usher us, the only two white people on board, up to a special seat high above and set apart from all the other passengers. I found Elizabeth down on the lowest level, among the market women who were standing by their wares and nursing their babies. She attracts a great deal of attention, and not primarily because of the color of her hair and skin. She loves meeting and interacting with people, and the children here readily apprehend her interest in them.

Yo Ghana! has benefited from quite a bit of good luck in its short history, none larger than Elizabeth's presence.