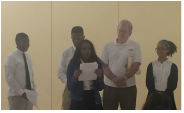 Our very first Student Showcase will be Monday, Dec. 19, 10:00--11:30 a.m. at St. Andrew Nativity School's gym behind the church at NE 8th and Alberta in Portland, Oregon.

Students such as Miss Meklit (pictured) will be presenting from their oral-history projects, some of our poets from nearby MLK School will be sharing their work, and students from across the Portland Metro Area will be sharing their favorite letters from Ghana.

Mr. Baba Wague Diakite of Mali will be presenting an African story, and we'll premiere some new videos about our work in Ghana. Ms. Elizabeth Fosler Jones, who co-founded Yo Ghana! at age fifteen, will emcee.

​Admission is free, and light refreshments will be provided. No reservations are required. We hope to see you there!