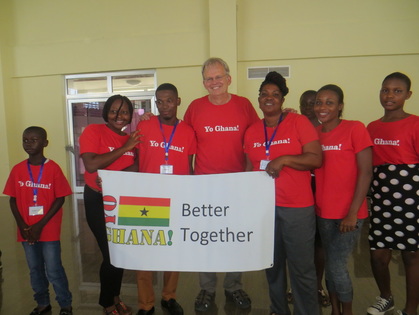 Our August Newsletter is now available--just go to the News part of our site, or click
here
.
​Most of the newsletter is devoted to our July 1-2 conference at the University of Education, Winneba.
Now, back home in Portland, I've had a bit more time to soak in what happened, and also have had some good talks with Wendy, Elizabeth, Eric Ananga, Berthy, and Lucy about the event.
My hunch is that if we are fortunate enough, as individuals and an organization, to be alive from now in a decade or two, we shall look back at this conference as a turning point in the history of Yo Ghana!
Organizations have to generate or tap into enthusiasm and passion to survive, let alone thrive. Otherwise they are just an abstraction. The conference generated enough passion to drive nearly ninety people to attend. Most traveled great distances. Dozens paid their own way. Parents entrusted their children to up to three days away. Teachers and administrators gave up a holiday and week-end. On Thursday people set out long before dawn and arrived long after dark.
And Friday morning everyone was ready to roll. The Ghana education system is often criticized for perpetuating a system of passivity in which teachers are told what to teach and students are told what to learn, with no questions asked, no initiative allowed. We didn't see much of that. Administrators and teachers debated each other as colleagues, as respected peers--and then formed a WhatApp group to keep the discussion going. Students reached across regional, ethnic, and class differences to make new friends and, when Madam Berthy asked students trained to memorize to stand up and share their poems, there were soon more students than was time for.
At the end of the conference on Saturday we gathered around a sign that read "Better Together." Madam Elizabeth years ago thought that slogan captured what Yo Ghana! is about. Certainly our first conference expressed that ideal.
​We have so much to learn from and share with each other. Our first conference revealed that there is a deep passion and capacity for such learning and sharing. Certainly there is much more to come.