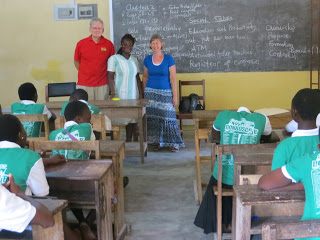 ​Thursday between preparing for the arrivals of our conference attendees Wendy and I visited our two Winneba schools, Don Bosco and St. Paul's. The students at both had graduated, so they came in on their vacations and waited several hours for us. This sort of dedication and patience never ceases to amaze and impress me.

We were particularly eager to thank the Don Bosco students for their initiative in undertaking independent-research projects. It is our hope that more schools will do this sort of work, and the students and their teacher, Madam Cynthia, worked very hard on the projects.

At St. Paul's we met with Mr. Mills and the students who would be attending the conference, and talked with the students of their plans for senior secondary schooling. Most students in Ghana live away from home for their three years of senior high school (equivalent to grades 10-12 in the U.S.), so this is a very big step. Roughly half of Ghana students are able to attend high school, so it is a very exciting time, preparing for this big stage of life and career.