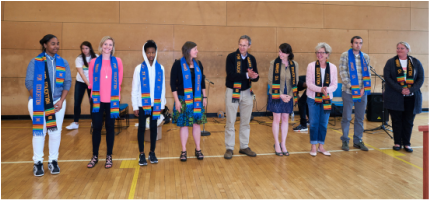 Some 180 of us honored Mr. Brando Akoto at Yo Ghana!'s second annual celebration May 14 at Africa House.
Brando believed strongly that we--that is, human beings--are here to care for each other, and there was a lot of that going on. Djimet Dogo opened the program by telling us that Africa House was our home, Madame Victorine put a lot of love and care and energy into her food, and the ladies of Portland International Church donated a dozen diverse and delicious West African dishes. The Obo Addy Legacy Project threw themselves into a thirty-minute set that had everyone clapping along. Lilly Akoto (above) helped us to remember the man we miss so much, her husband, as did one of Brando's friends from childhood, Ibrahim Abubaker (also pictured above), who drove down from Canada to be with us. Among our many volunteers, we are particularly grateful to Aaron Jones and Wendy del Mary for somehow being everywhere at once. We are also grateful to the more than fifty generous people who donated to us before or during the event and to Agbey Gedza, President of the Ghana Assocation of Oregon, for taking such amazing photographs.
We honored six big-hearted people with Yo Ghana! Star Awards: teacher Ginny Hoke; headmaster Kofi Anane; volunteers
Dominic Fordwour and Essan Weah; and founding board members Dr. Kofi Agorsah and LeeAnn Bronson. Board Member Komi Kalevor emceed with his usual grace, co-founder and board member Elizabeth Fosler-Jones showed her vivid video from her trip of last year, and TreNeasha Shearer of St. Andrew Nativity School spoke on what sharing letters with a student at St. Kizito Basic School in Kpandai, Ghana had meant to her. Board Member Harriette Vimegnon presented each of our attending teachers, and two students standing in for their teachers, with Kente stoles that Dr. Agorsah had arranged to be woven for us in Ghana.
One of Brando's many slogans was: Take care of relationships, and everything else will take care of itself. Saturday's celebration was a beautiful illustration of that adage. Brando, we miss you so much. It was an honor to honor you. And thank you for showing us the important things to remember, both as individuals and as an organization. We shall never forget you.