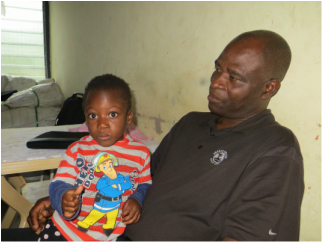 On May 14, from 3:00 to 5:00, Yo Ghana! will be honoring Mr. Brando Akoto in its annual celebration at Africa House.
Brando was part of Yo Ghana! for only about a year and a half when he passed away six months ago, but he left a big mark on how Yo Ghana! goes about its work.
As this photo suggests, Brando attended closely to children. I remember visiting one day last winter when he was obviously in a lot of pain but still enthralled by and attentive to the toddler who was bouncing all over the room and him. He brought the same level of attentiveness to every interaction, whether you were a life-long friend or a boy selling bananas alongside a dusty Ghana road he would never see again. Being around Brando made one feel as if you should expect more of yourself.
Brando brought an acute intelligence and many years of experience in doing grass-roots development in Ghana to Yo Ghana! But most of all he brought a relentless focus on relationships, on caring for and about each other. Brando always wanted more time with whomever he was with. To a school administrator in Ghana who was regretting that a large nonprofit had quickly built them a cookie-cutter classroom that did not fit their needs and then moved on, Brando replied: "We won't build you a classroom. But if you start one, we will help, and twenty years from now we will still be visiting and working with you." When we returned to the school a year later, they had, indeed, started building some classrooms all on their own, to their own specifications. In two months we will visit them for the third time, and the teachers and students will ask after Mr. Brando.
I hope that you can join us May 14. You can get tickets (just $20.00 for over age 10, $10.00 for ages 5-10) by emailing
Yo Ghana!
or by registering through our
Eventbrite page
.
​
There will be dancing and drumming from the Obo Addy Legacy Project, West African food from Madam Victorine and many other West African ladies, awards to some of our amazing volunteers and teachers, and we shall hear from a few of our 2,000 students. And we'll light a candle for and say some words about the dear man responsible for bringing so many of us together and lighting our way.