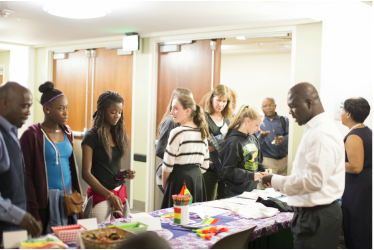 One of the most enjoyable parts of last year's inaugural Yo Ghana! gathering was seeing some 230 people from such diverse backgrounds come together to learn about Ghana and each other.
That was what Brando Akoto, the man whom the May 14 2016 dinner will be in honor of, had in mind.
When I think of nonprofit dinners I have been to, three things stand out: 1) High ticket prices: 2) Lots of flashy auction items; 3) Plenty of alcohol to jack up the bidding on said auction items.
Brando had a different set of essentials: 1) Low ticket prices so everyone who wants to come is able to; 2) Honor teachers and other people who make Yo Ghana! go; 3) Provide great Ghanaian food and music and an experience that encourages friendship among people of all ages, income levels, and cultures.
So that's the sort of experience that we'll be striving to again provide from 3:00 to 5:00 p.m. on Saturday, May 14, in the big hall of the Immigration and Refugee Community Organization (IRCO), 10301 NE Glisan, Portland.
We also hope to make some money for Yo Ghana! But we also remember Brando's counsel whenever the question of fund raising came up: "If we take care of relationships, everything else will take care of itself."
More details to follow, but please plan on being part of the party and a chance to pay our respects to Brando, our guiding light and best friend to everyone who knew him.